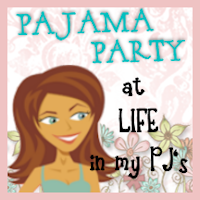 Welcome to Pajama Party #4! First off, I wanted to thank everyone that participated last week. It was so much fun to see all your wonderful submissions! Here are just a few:
Mandy at Sugar Bee made this gorgeous Yarn Ball Wreath:
Jenni at The Roseland Family made this wonderful Sugar Scrub:
Tricia at The Leafy Tree Top Spot gave us these yummy Meringues:
If you have been featured, please grab your button found here, on my buttons page.
I also wanted to take this opportunity and wish everyone a wonderful and Merry Christmas!! I am going to take the following week off to spend with my son, so the next Pajama Party will be on January 5th. Can't wait to see what all of you have planned for the New Year! So here is to a safe and Happy New Year!!
Please link up any projects you have been working on.
I just ask the following:
Link to a specific post NOT your main blog. This could be anything DIY related, cooking, crafts, home improvement, fiber arts, ANYTHING creative. Even great finds it ok to post, I'm flexible =)
Please try and comment on the person/people before you. The more comments the better!!
I ask that you follow my blog as well.
Please have my button somewhere on your blog. Can be in the post, on a separate page or as a link.
Have fun and come back every week!!
That's it! I will post a few of my favs the next party. Can't wait to see what everyone has come up with!